The Best Steps To Creating A Successfully Decorated Living Room
Sometimes just a splash of paint, beautiful furniture and spectacular wall art can make a world of difference to a living room. However, placing these amenities in the right place, and selecting the right color combinations to accentuate a particular style can be a challenge.
If you don't know where to start when planning or decorating your living space, Interiors By Nicole has compiled some tips to help you with the process. Follow these eleven steps to create a successfully decorated living room.
1. Assess the room with open eyes.
This first step is essential. Deciding what you like about your space and what you want to change is key to knowing which direction you want to go in. Maybe bring a good friend over and get an impartial assessment of the space. Another trick is to get your camera out and start taking pictures of your room. Looking at a photo allows you to step away and look at the place with a new perspective. Take note of the furniture, accessories, and fixed surfaces that you want to keep and the ones that must go. For instance, the heirloom chair is a keeper, so you have to incorporate a matchable style to suit the room. Remember, sometimes the smallest changes have the most significant impact.
2. Measure the space.
Measure the area and sketch it on paper, and add windows and door measurements to your plan. It will be your template for when you go shopping for furniture, especially for a sofa. Too many times, a sofa is purchased, only to discover when it is brought home that it is too large for the area.
3. Start with a good base.
Please start with the flooring, and consider it your foundation. Is it dark or light? Does it have a pattern, or is it a solid? Flooring is such a critical element of making a room look good. Take a look at your baseboards and check if they are damaged or tired looking. No amount of "lipstick" will make your room look amazing, so if your current flooring and baseboards are in a bad state, consider changing them before you do anything else.
4. Pay attention to your scale.
In every room, furniture placement/selection can make or break the look and feel of a place, so traffic flow and the scale of your furnishings needs to be considered. How many times have you entered a room and noticed that the sofa is too big for the room size? It overpowers the space, and becomes hard to walk around the furnishings without bumping into something.
5. Consider lighting.
Lighting gets often overlooked when renovating, but it is so essential to the look of a room. Lighting has come to the forefront in the last decade, especially with the widespread use of LED light. The LED comes in a wide range of intensities and affects the overall feel of a room. For example, try to consider whether you want your room to have a modern feel or a cozy cottage feel. Lighting also affects your wall color. If you choose your wall color before your light, you are surely going to end up with a wall color that is very different from what you imagined. Lighting is a chance to add a bit of bling to a space, so it's vital to factor in the scale, the type of light, and the quantity of lighting needed.
6. Choose a contrasting shade or pattern for your area rug.
If you don't have an area rug, then go to step three. If you have dark flooring, its best to choose a light area rug, as it will define the space much better. Also, make sure it is the right size, as the measurements can undoubtedly make a room look small or large.
7. Pick a contrasting sofa.
Choose a sofa that is in contrast to the flooring or area rug. Consider using a solid patterned sofa which is more neutral and gives you better options to accessorize with for a decorative look. Furniture styles can be blended but try to limit it to a maximum of three; otherwise, the room will feel out of balance.
8. Find inspiration.
It could be from the pattern in the area rug, a favorite pillow, or fabric that caught your eye. It could also be from a piece of art or picture. Once you know what color palette you are going with, decide which one will be your neutral color, your primary accent color, and the secondary accent color. I like having three primary accent colors and one secondary accent color in a room. For instance, two pillows and one artwork or accent chair but make sure to spread the glow around the room. Then you can add an accent color like that of a pillow or flower in the secondary color. I like changing this color with the seasons. It doesn't cost a lot and can freshen up a room.
9. Choose appropriate window treatments.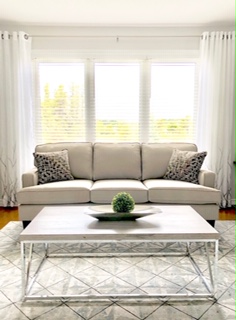 Now I would be the first to say that not all windows need a window treatment, but I can tell you that you may need it for privacy as well as to soften a space. Sometimes, the treatment will be monochromatic and blend in with the wall color, and other times, it will be a contrasting color to make a statement. It comes down to what is going on in the room and preferences. For instance, in a dining room that has very few elements, bold draperies might add a focal point or a bit of drama to the room.
10. Consider metal/glass finishes.
Metal and glass finishes are often overlooked. Some take it very seriously, and some don't even give it a thought. Metal finishes add a bit of sparkle (not if you choose a matte finish) to a space. Mixing metal finishes is something I always try to do, but I limit it to two in an area. I find it adds interest. Yes, brushed nickel and chrome can go together, satin nickel can go with matte black and so on. Again, try to decide if you want a contrast or a monochromatic look.
11. Add your personal touches.
Even if you follow steps one to ten, the action of adding personal touches to the room makes your room yours and not something you just copied from a magazine. It might be family photos, artwork, furniture that has been handed down for generations. Deciding what is essential and what makes you happy is key to decorating your space. Make decisions before starting your decorating, by planning what you would like to stay and make sure that the pieces that you love will fit into your space.
So there you have it, decorating a living space is not difficult if you follow my eleven steps.
If you require personal consultation for your next decorating project in and around the Greater Sudbury Area, reach out to INTERIORS by Nicole. I can help you achieve your dream home by providing house, kitchen, bathroom, and basement renovations.
I serve clients across Valley East, City of Greater Sudbury, Hanmer, Chelmsford, Azilda, Onaping Falls, Whitefish, Walden, and Lively.
To learn more about my services, please click here, or get in touch with me by clicking here.